Welcome to Website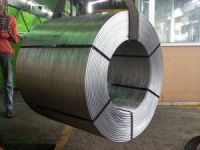 Sarthak Metals Marketing Private Limited an ISO 9001:2000 certified company, established in the year 1995, with the aim of achieving unprecedented success in offering modern Metallurgical Solutions to one of the oldest metal manufacturing industries in the world, i.e., STEEL MANUFACTURING INDUSTRY. The wide range of our products includes Cored Wires, Ferro Alloys, Aluminium Flipping Coils, Wire Feeder Machine, etc.

We provide products and solutions targeted to attain precise metallurgy of steel. Over the years, through our consistent high-quality products and dependable services, we have achieved the 'preferred Manufacturer, Exporter, and Supplier' status in most of the major steel plants all over India.
We are engaged in making available the best quality Sulphur...

Our Carbon Cored Wire (C) is offered with the desired...

Being produced from A-grade virgin metals, our Ferro Boron...

With an aim for bettering the quality of steel, we plunged...

From stabilization to deoxidation, grain-size control, and...

Calcium Iron Cored Wire (CaFe) that we offer find many...

Buyers can avail themselves of high-quality Calcium...